Li'l Panthers Child Care is seeking a fun loving enthusiastic individual to fill our opening for a part-time Assistant Childcare Teacher. The ideal candidate must: be at least 18 years of age have at minimum a high school diploma completed an approved assistant child care teacher training program credits and/or coursework in early childhood education experience working with children This is a part-time (approximately 20 hours/week) year round position. Discount for childcare provided for Center employees. Submit applications to Christine Backes at
christinebackes@bowler.k12.wi.us
. Application and background check forms are available on the District website.
Calendar Update. Wednesday, May 17th will be a full day of school , rather than an early release day.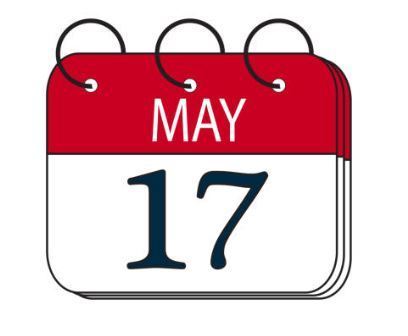 BOWLER HIGH SCHOOL ATHLETICS- UPDATE Due to the expected weather on Thursday, the Boys JV/Varsity Basketball game vs Marion has been rescheduled for Friday. Parents/Senior Night Recognition will take place between the JV & Varsity games. 6pm tip-off for JV.
2/21/23 WIAA Girls Regional Basketball Bowler @ Suring- 7pm ALL TICKETS- $6
Tonight's Middle School Girls Basketball game at home vs White Lake will start at 4pm. There will only be one game. All 5th-8th girls will dress for the game.
The Gresham-Bowler High School Track & Field program is still looking for a Head Coach and an Assistant Coach for the upcoming spring season. If you are interested or have any questions regarding the positions please contact Mr. Jeff Zobeck at 715-787-3211 Ext. 402 or at
zobeckj@gresham.k12.wi.us
The School District of Bowler has the following coaching positions available: (2) Middle School Softball Coach If you are interested in any of the above positions, please submit a letter of interest to: Jeff DePerry, Athletic Director Bowler School District 500 South Almon Street Bowler, WI 54416
jeffdeperry@bowler.k12.wi.us
.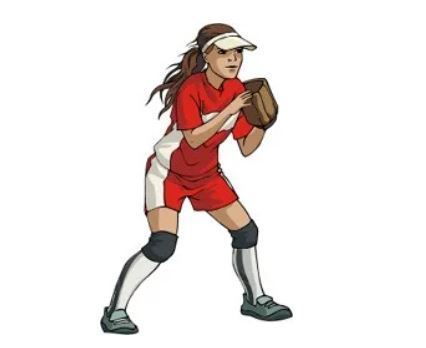 Tonight's Varsity Girls Basketball game at Wausaukee has been postponed. A reschedule date will announced once determined. Thank you
Students in grades 3-12 will have a presentation January 18th by Daniel Terrio. "I Knew a Boy: A Human Beingness Story" In this presentation, Dan Terrio will explore the concept of human beingness, resiliency, and finding purpose through the power of storytelling. Utilizing the powerful human beingness story of one boy's journey, attendees will leave believing that resiliency, healing, strength, and good can spring from less than perfect circumstances, while mobilizing communities to lead with intentionality toward a culture of diversity, equity, and inclusion.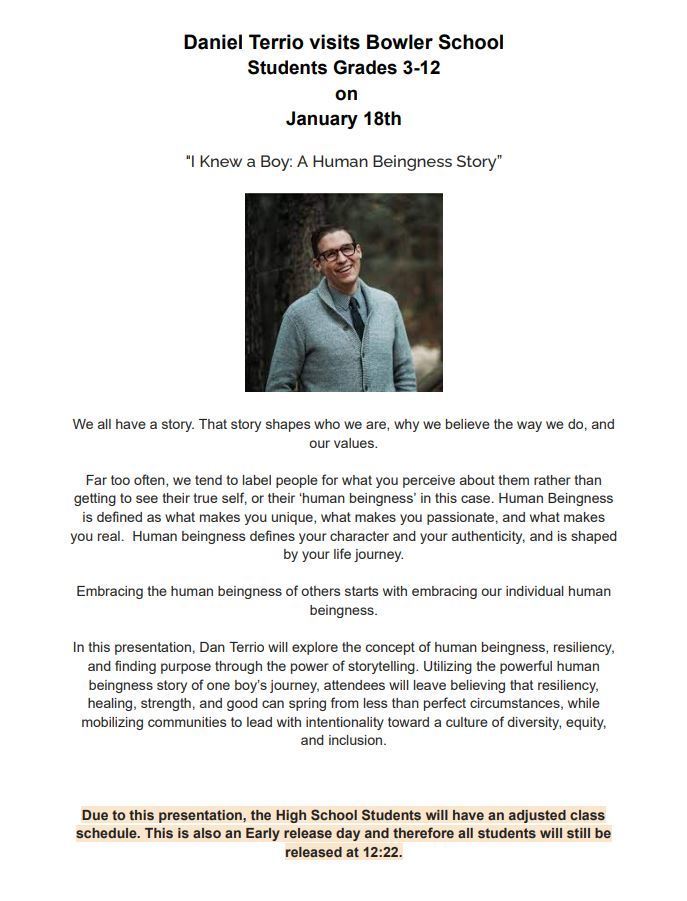 It's game day!! Good Luck at your game in Gresham tonight Lady Panthers!!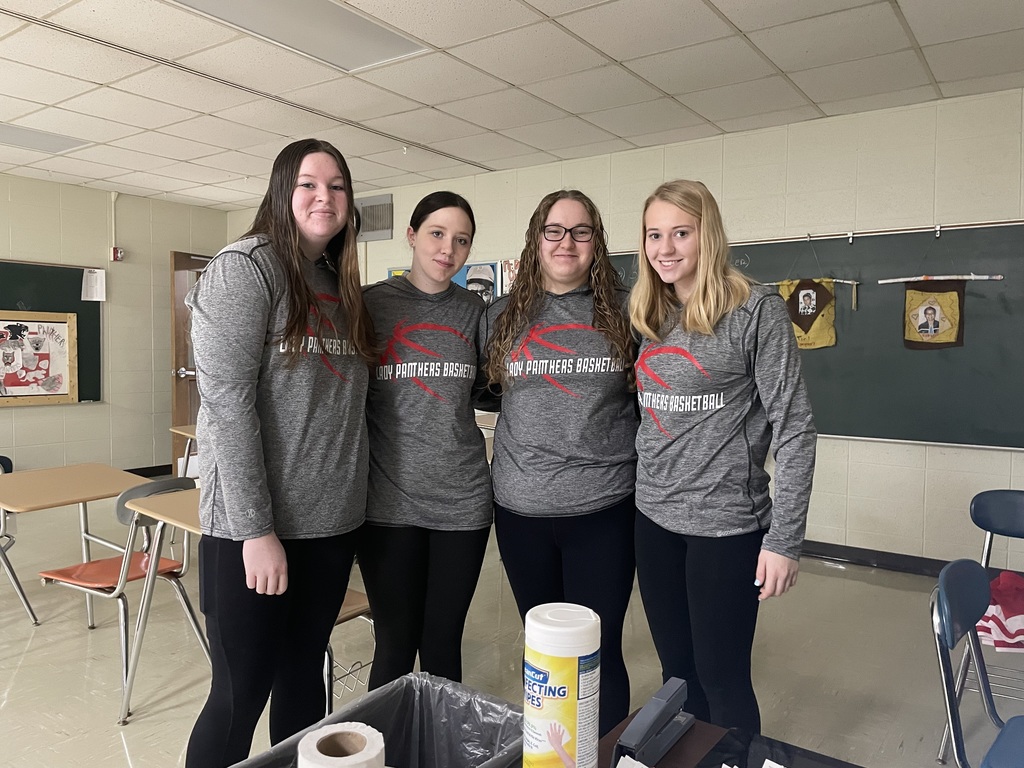 Thursday, January 5, 2023 at 7:30 am we will be starting to accept enrollments for Bowler's Li'l Cubs Child Care Center. Please see attached flyer for details.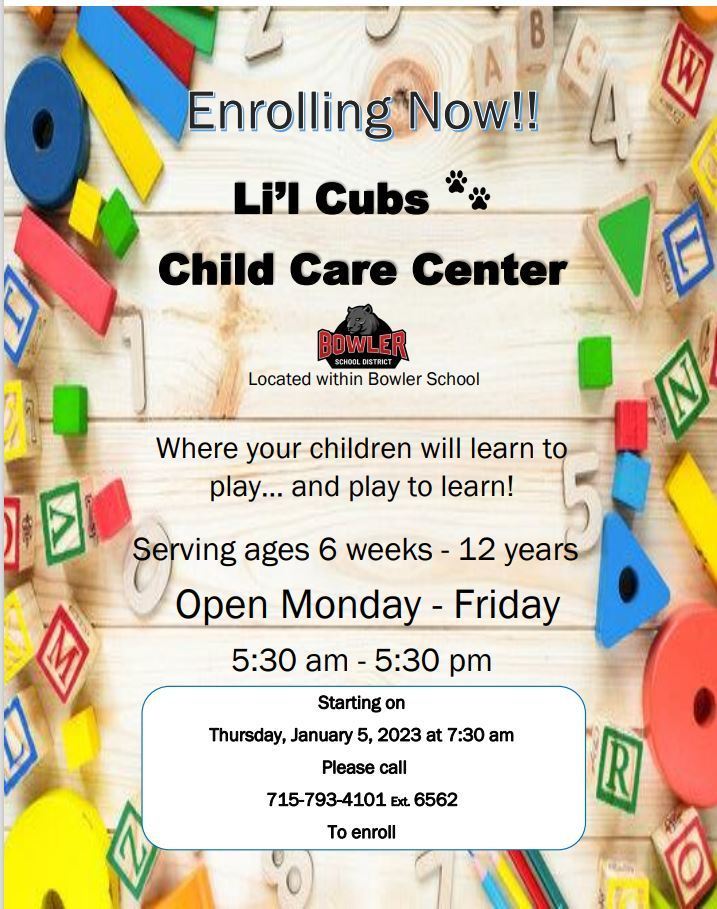 Due to worsening road conditions . all after-school activities, clubs, and all athletic practices/games are cancelled for tonight!
2023 SCHOOL BOARD ELECTION: NOTICE OF INCUMBENTS WHO HAVE FILED A NOTIFICATION OF NONCANDIDACY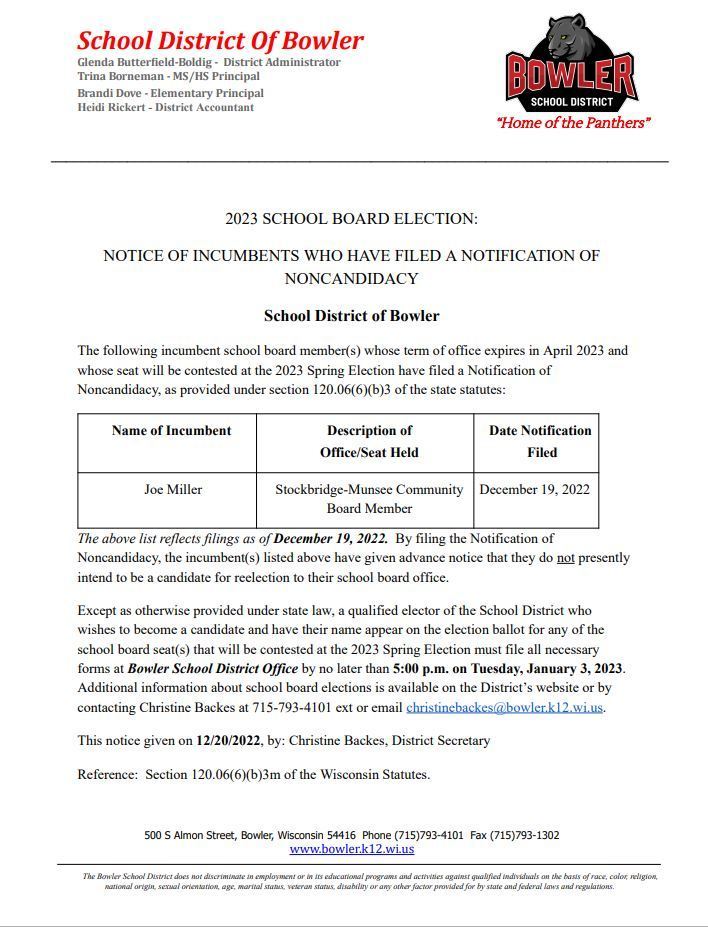 Bowler School District will be closed, Thursday December 15th due to inclement weather. Please be safe and stay warm.
Bowler School District will be canceled Wednesday December 14th due to inclement weather.
Tonight's Varsity Girls' Basketball Game Bowler vs Pittsville has been canceled.
College Ready @ Badger Precollege is a holistic program that combines broad college readiness experience with an exploration of analytical skills to help prepare students for college success.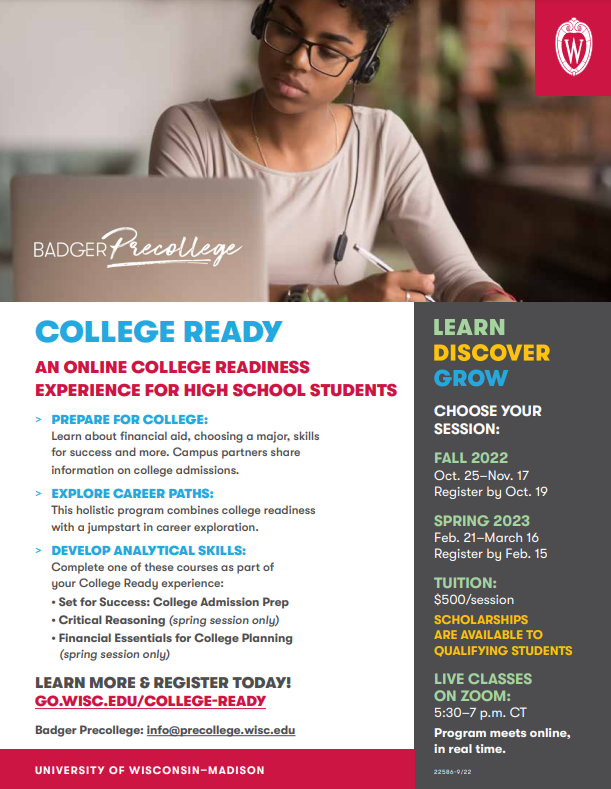 Li'l Panthers Child Care is currently looking for fun loving enthusiastic individuals to join our team. Starting pay is $14.00 and we offer full and part-time positions. Please visit the Bowler School website for job descriptions and how to apply.
Middle School Boys Basketball returns to the court this afternoon! Only 2 games today. The 5th/6th/7th Grade game starts at 4pm, with 7th/8th Grade game to follow. Go Panthers!!
#bowlerproud sophomores and juniors attended the Career and Transition Fair at Antigo High School. They got to learn about many businesses including Aspirus, Nueske's, Brickner's, CoVantage, Swiderski, the Antigo Police Department, and the Langlade Sherrif's Department.