The Bowler School Fab Lab will be open to community members 18 or older starting Wednesday, October 4th. You are able to work independently on your own project or the Project of the Month. Check out the attached flyer for important additional information.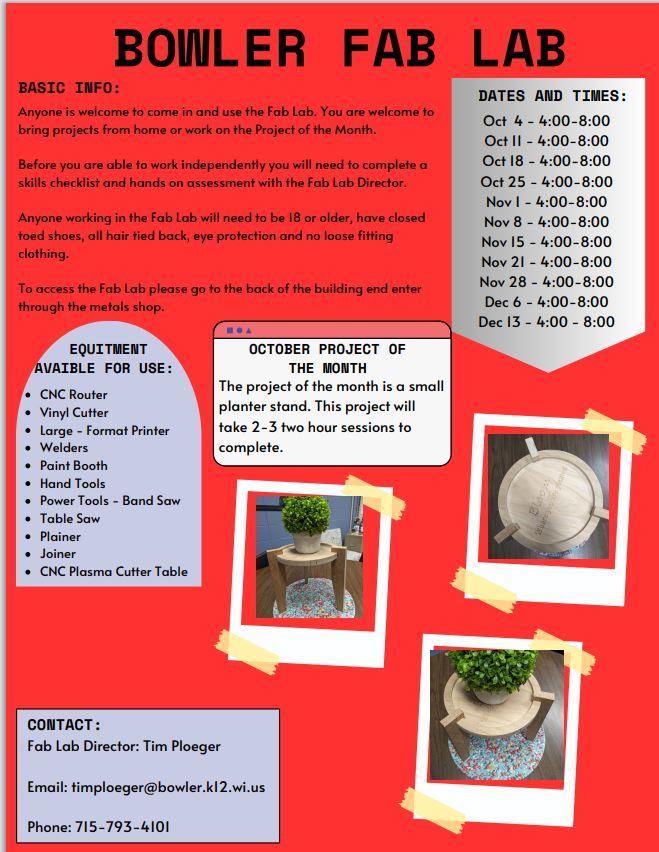 Tonight's Middle School Football game vs Almond-Bancroft has been canceled.
Tonight's JV Football game vs Wild Rose has been canceled.
The Bowler School District is seeking an energetic and detailed oriented individual to fill the 2nd shift custodian position. This is a full time position.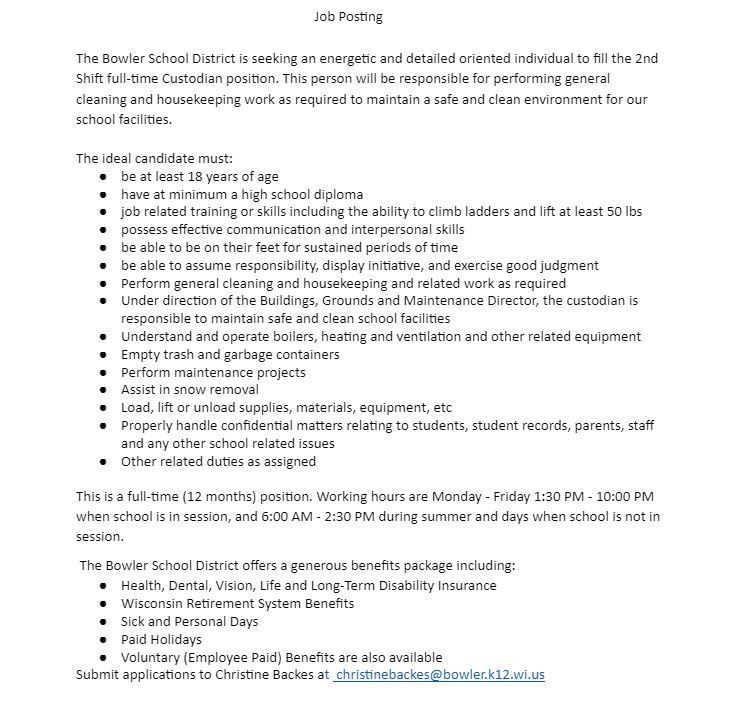 School Picture Day is Tuesday, October 3rd.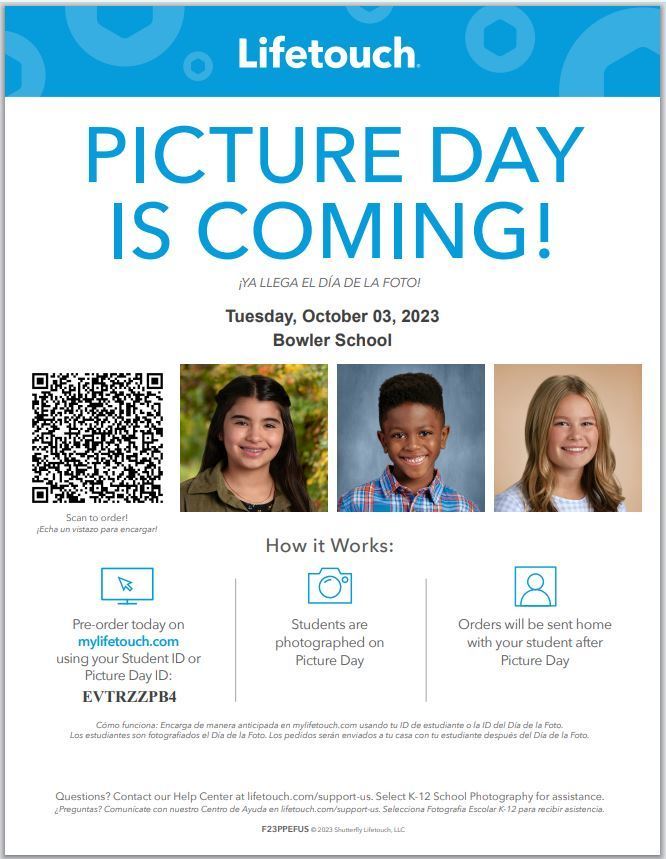 Li'L Cubs Child Care Center has openings. Please call Shelbi at 715-793-4101 ext. 6562 for details.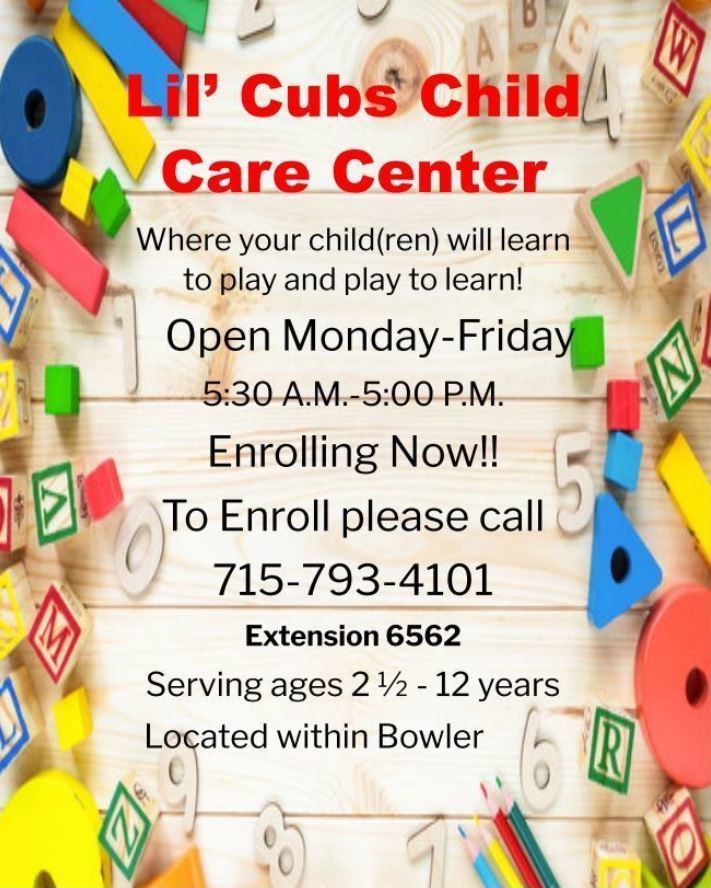 The Bowler School District currently has some used strength and conditioning equipment for sale. If you are interested in making an offer on any of the items pictured, please contact Athletic Director Jeff DePerry (
jeffdeperry@bowler.k12.wi.us
) for more information. The equipment is sold as is.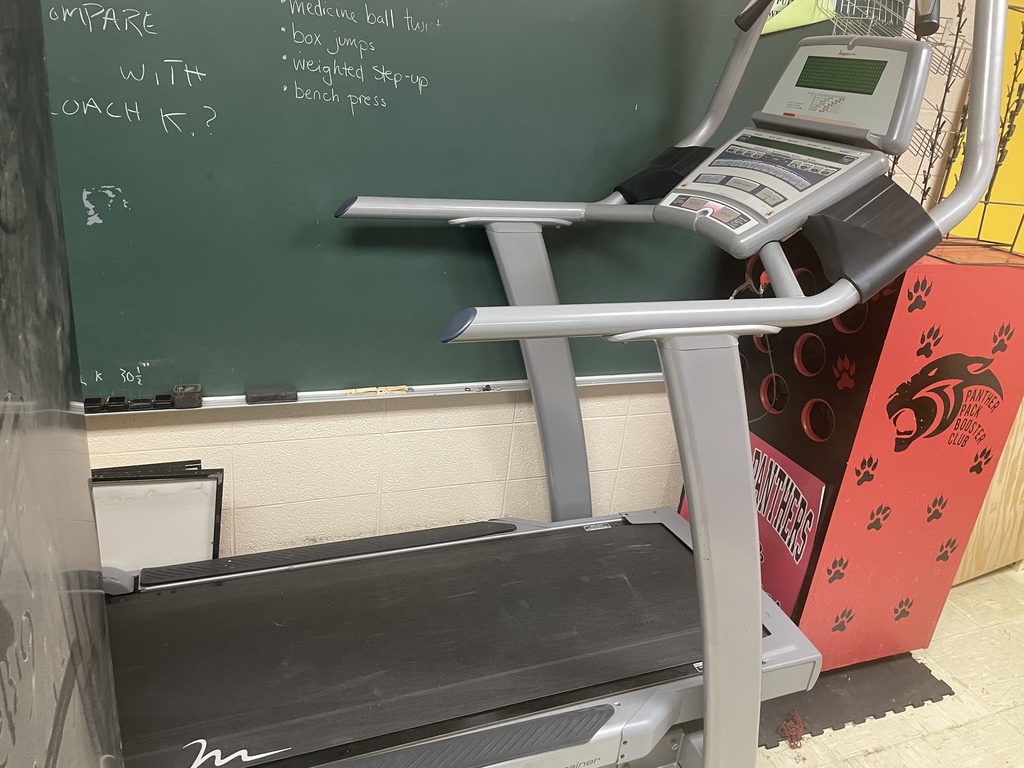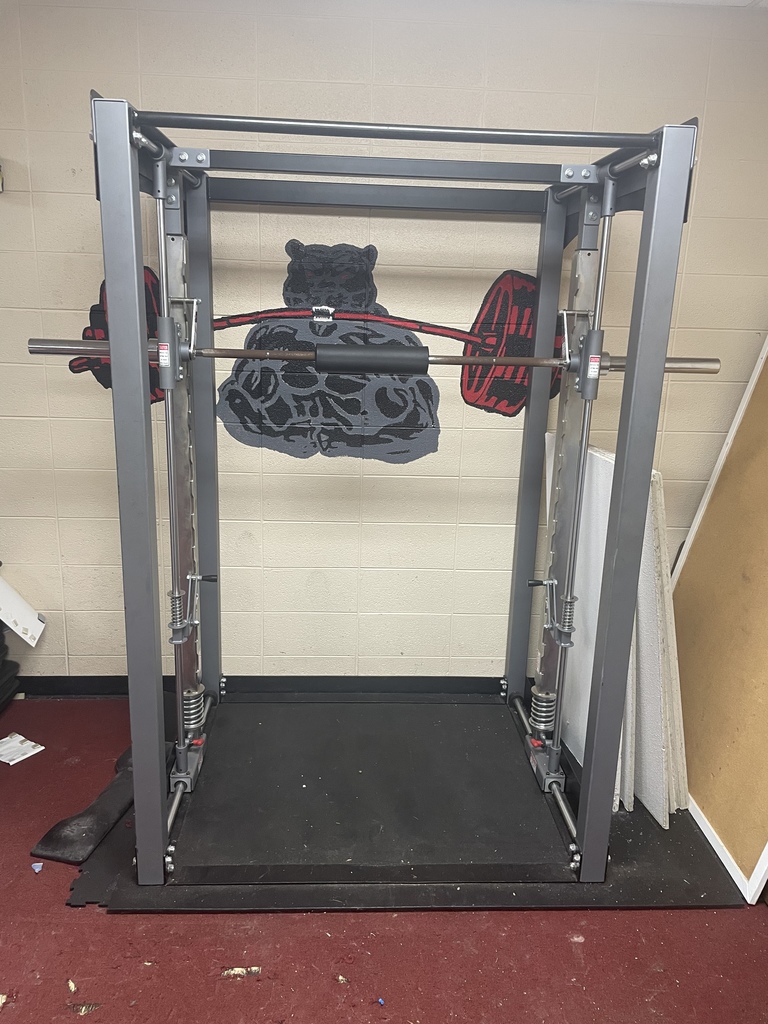 Li'l Panthers Child Care Center is looking for a full-time Lead Teacher.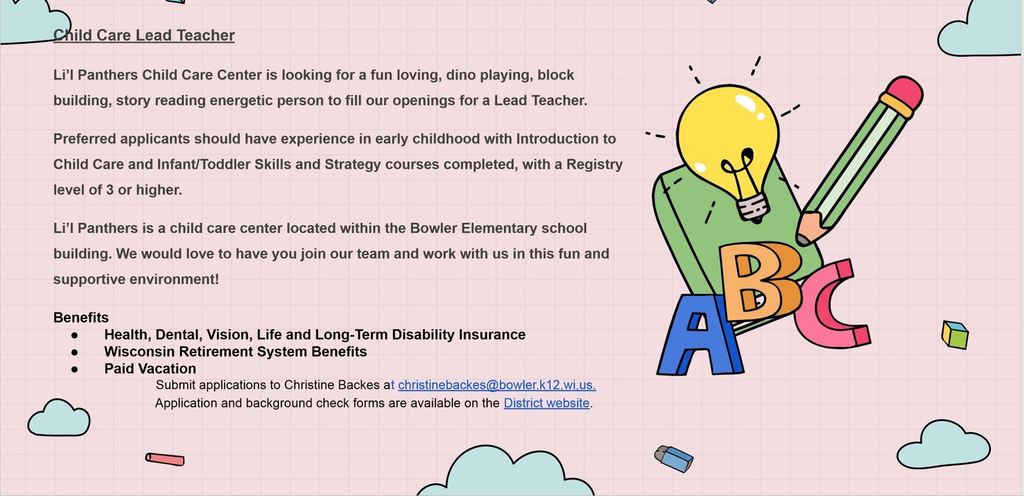 Join us in celebrating a special ribbon cutting for the new Agricultural and Tech Ed addition. Tuesday, August 29th 6:00 - 8:00 pm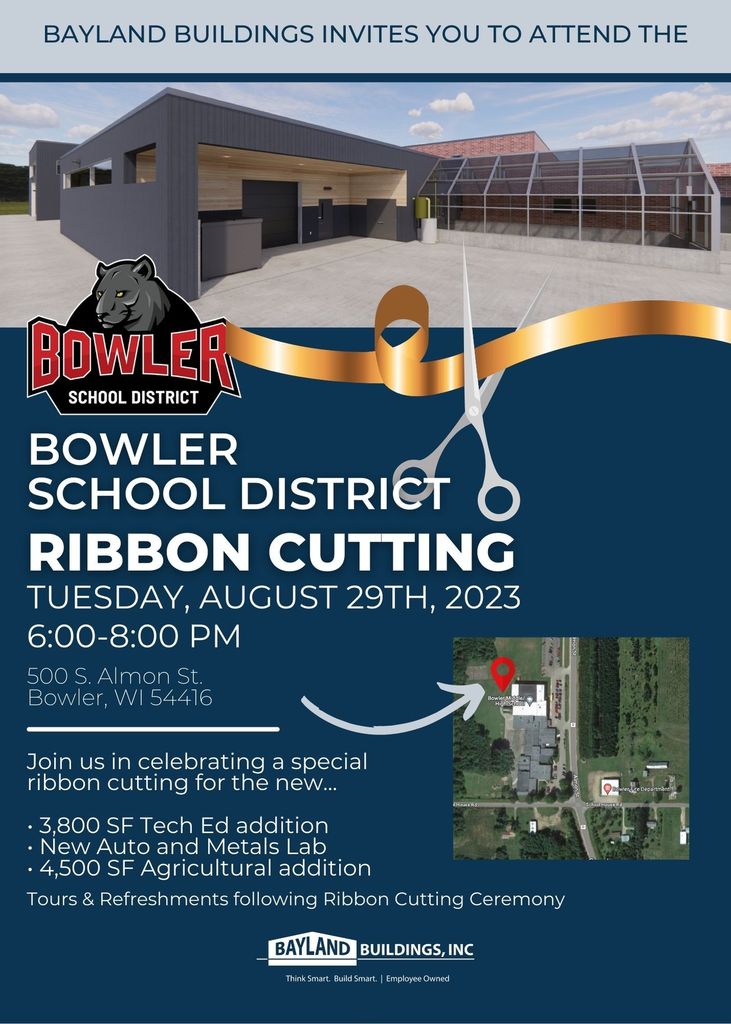 BOWLER SCHOOL SEEKS SNOWPLOW QUOTES The Bowler School District seeks two separate quotes for snow removal service for the 2023--2024 school year. The district requires that the following criteria must be submitted with a proposal for snow removal: Vehicle(s) description; Evidence of liability insurance of $1,000,000; Description of backup vehicle to be used if primary equipment is not available; and Hourly cost of service to the district. The above information must be submitted with your quote. . Snow removal must be prior to 6:00 am on the morning of school days. A measurable accumulation of snow must be removed from parking areas prior to athletic events, concerts, and general school activities. 24-hour on-call emergency service must be provided. Salt and/or sand should be supplied for icy conditions. Please provide a separate quote for snow removal and indicate the extra cost for sand and/or salt in the event of icy conditions. Quotes must be submitted to Bowler School District Office, 500 S. Almon St., Bowler, WI 54416. All quotes must be received by Noon on Wednesday, August 16, 2023. The Bowler Board of Education will review quotes at their regular scheduled meeting on Monday, August 21, 2023 beginning at 6:00 p.m. The Bowler School District reserves the right to reject any or all quotes.
The high school gym will be closed for floor maintenance until Friday, August 4th.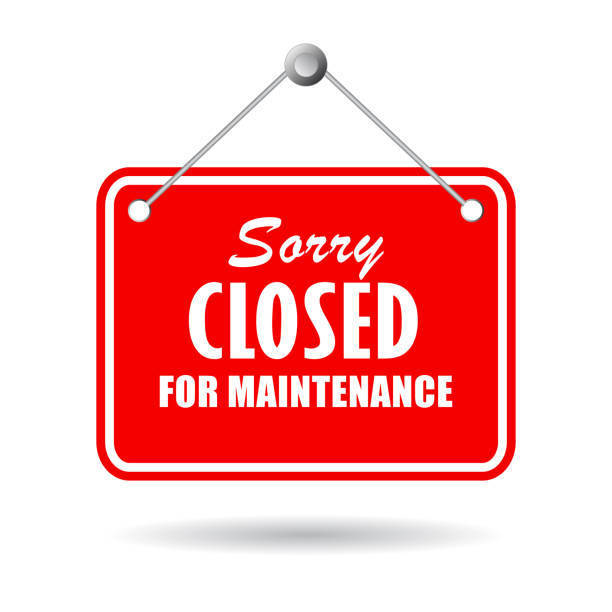 The NHS Sponsored Blood Drive scheduled for Friday July 14th has been cancelled and will be rescheduled for a later date.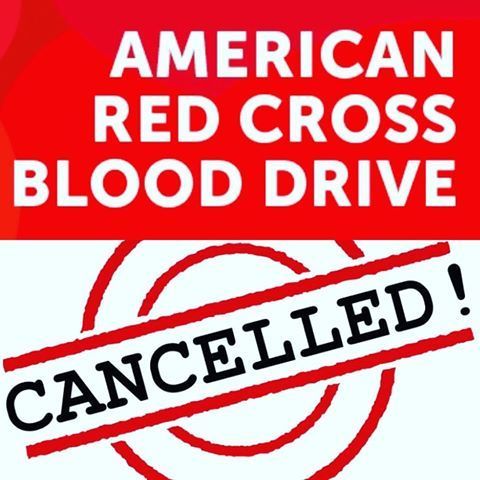 NHS Sponsored Community Blood Drive Friday, July 14, 2023 11:30-4:30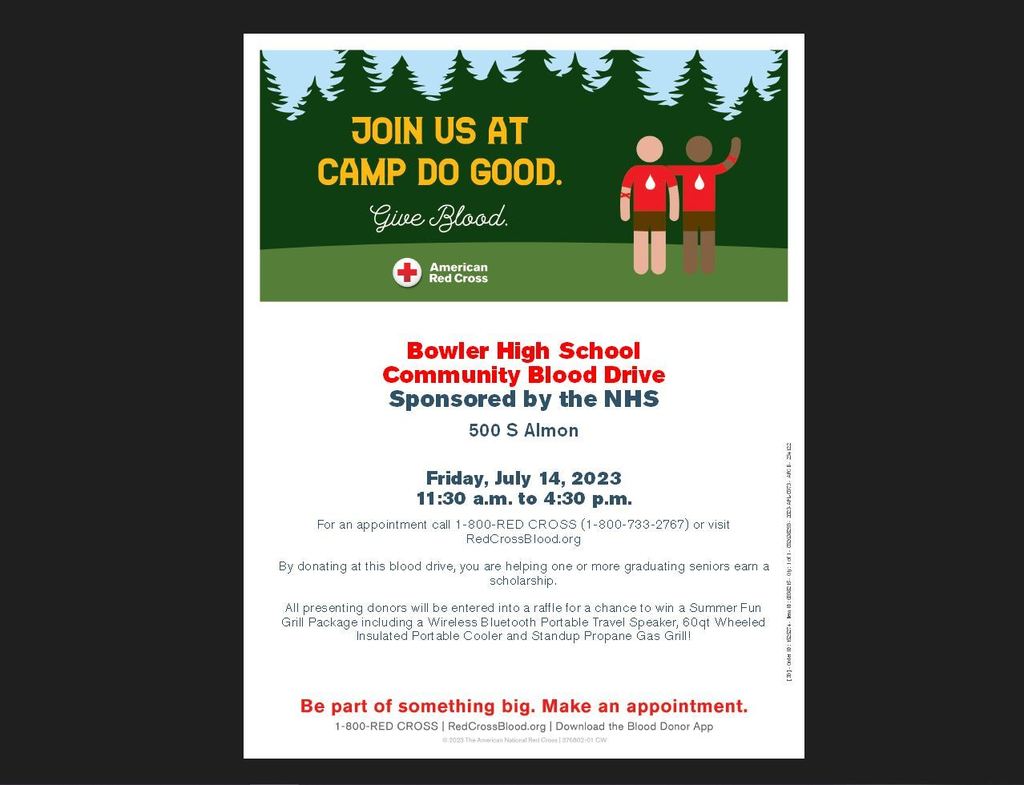 NHS Sponsored Community Blood Drive Friday, July 14, 2023 11:30-4:30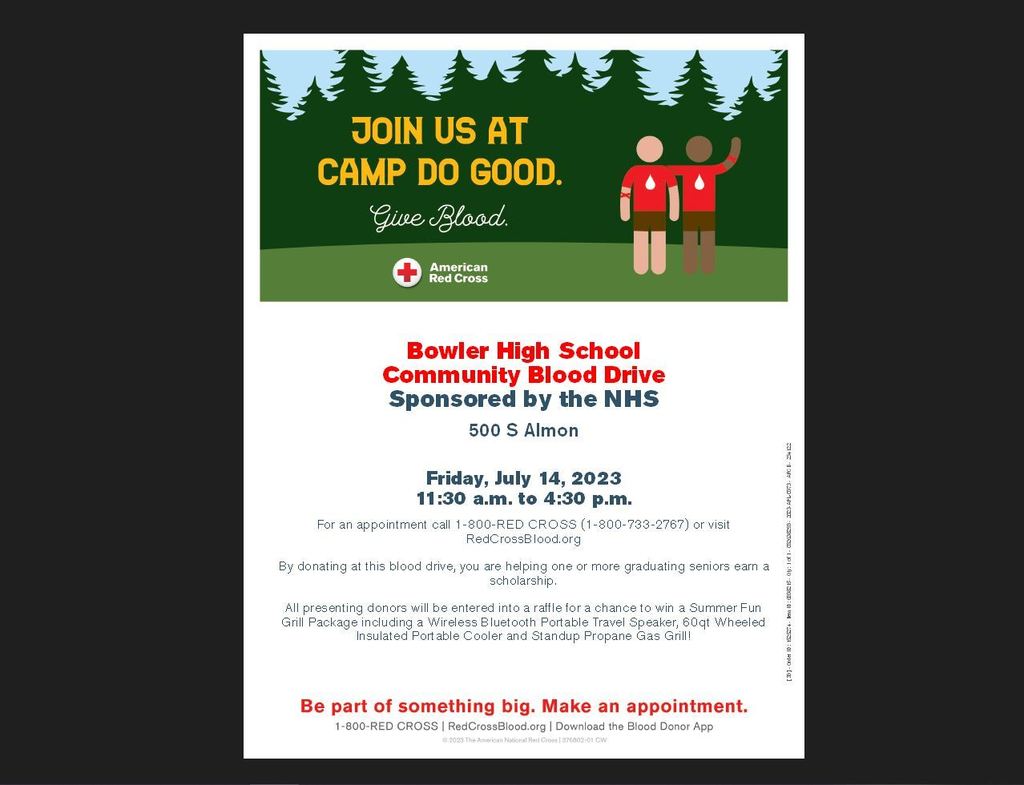 The Bowler School District is seeking an energetic and caring individual to fill the K-12 Paraprofessional/Substitute Teaching position. This person will be responsible for working with special needs students, small groups, classroom support and filling in for teaching staff when needed. This position will start at the beginning of the 2023-2024 school year.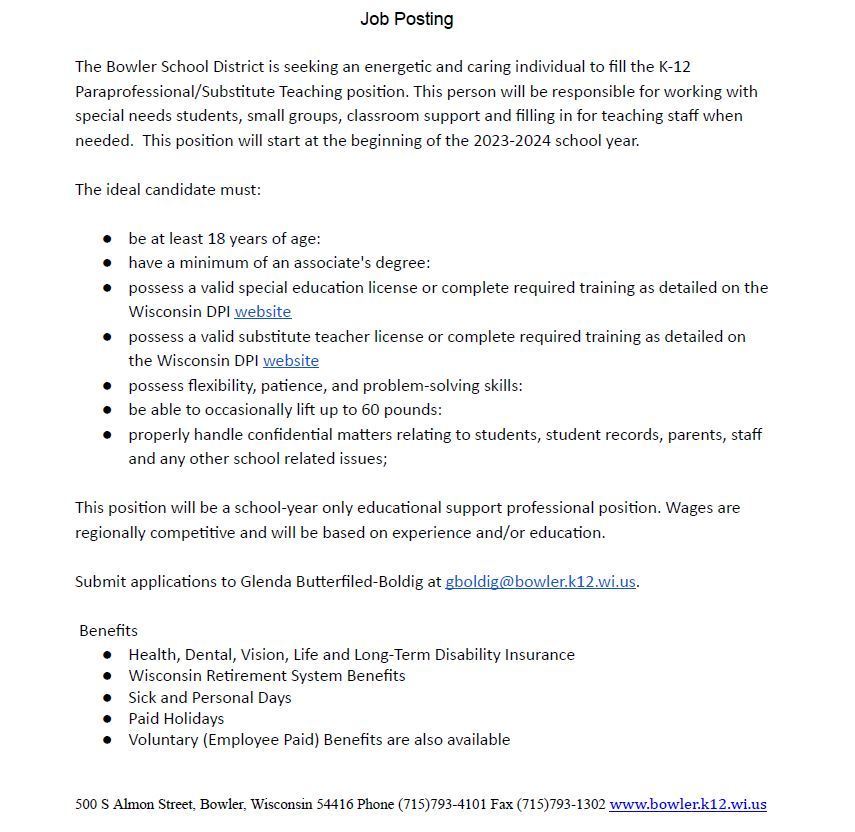 Bowler School District is seeking an AmeriCorps volunteer to assist with our Weekend Backpack program as well as providing public hours for Bree's Closet. Open to high school graduates ages 17 and older. Applications accepted through Aug. 16, 2023. For more information or to apply, visit mchsamericorps.org. The 2023-24 full-time AmeriCorps service term is Sept. 11, 2023 – Aug. 31, 2024.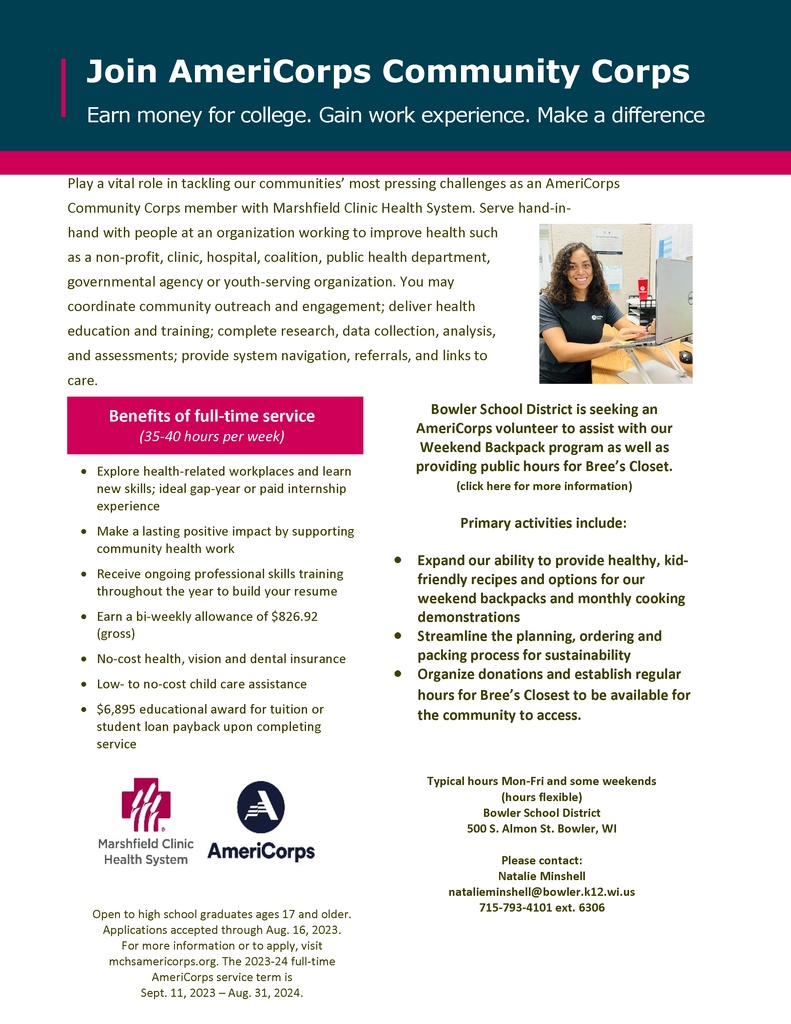 It is Pow Wow Day at Bowler School!! 1p-3p in the High School Gym EVERYONE IS WELCOME!!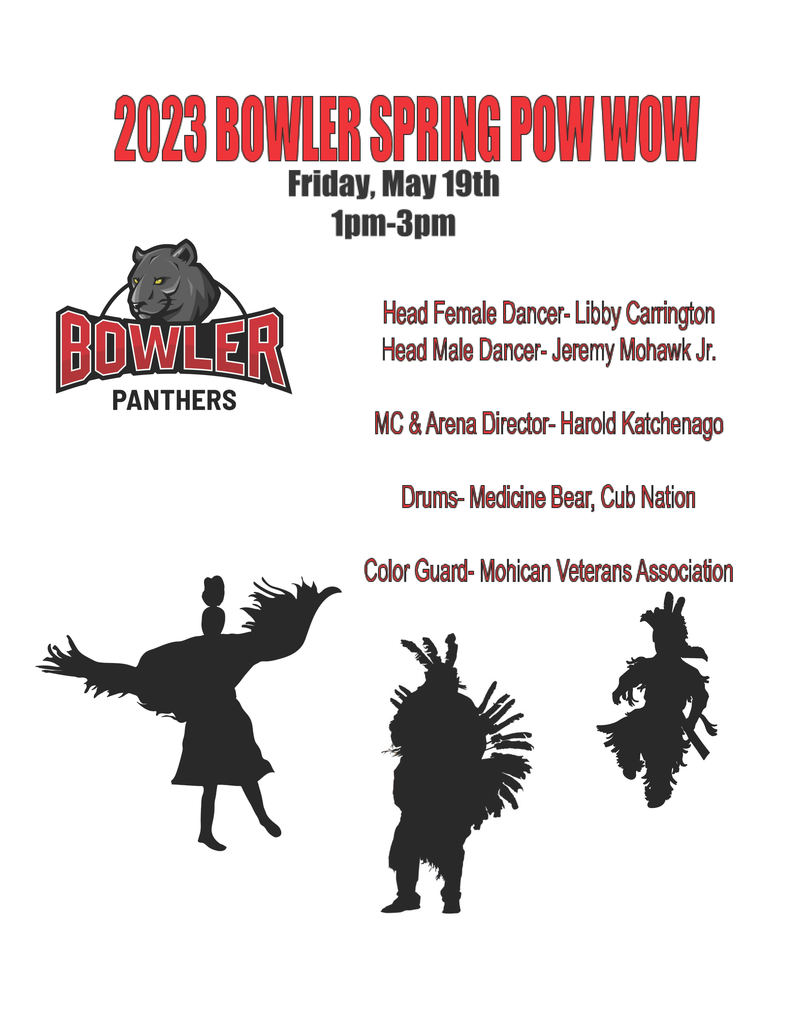 "Public Hearing for Title VI" TITLE VI INDIAN EDUCATION PARENT ADVISORY MEETING Wednesday, May 3, 2023 6:00 pm Bowler School Board Room There will be a Title VI Parent Advisory meeting at the Bowler School Board Room on May 3, 2023 at 6:00 p.m. All families of American Indian students who reside in the Bowler School District are invited to attend. We will be going over and discussing the objectives for the 2023-2024 school year. Jeff DePerry Title VI Program Coordinator Bowler School District (715) 793-4101 Ext. 6320
jeffdeperry@bowler.k12.wi.us
April's Monthly Board Meeting will be on Monday, April 24th at 5:30 pm.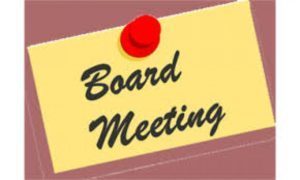 Mark your calendars for these UPDATED Panther Playgroup dates: 3/31/23--- Incredible Insects 4/14/23--- Fabulous Flowers 5/5/23--- Summer Fun Who: Local Families with Children up to age 5 What: Meet the Preschool Teachers, meet new friends, play, make a craft, have a snack, and get a free book When: 9-10:30 on the following Fridays--- March 31st, April 14th, and May 5th Where: Check in at the office then head to Room 048 (Preschool Room) at Bowler Elementary School If you have any questions about Playgroup or your child's development, please contact Marie Leslie at (715)793-4101 or
mleslie@bowler.k12.wi.us
We hope to see you there!